Franck Boulègue is a French film critic for research journals and other publications.
Follow him:
He has published and (co-)edited several books about Twin Peaks (the prices include the shipping costs):
Signed copy of "Twin Peaks: Unwrapping the Plastic"
"Few contemporary television shows have been subjected to the critical scrutiny that has been brought to bear on David Lynch and Mark Frost's Twin Peaks since its debut in 1990. Yet the series, and the subsequent film, Fire Walk With Me, are sufficiently rich that it's always possible for a close analysis to offer something new – and that's what Franck Boulègue has done with Twin Peaks: Unwrapping the Plastic. Through Boulègue's eyes, we see for the first time the world of Twin Peaks as a coherent whole, one that draws on a wide range of cultural source material, including surrealism, transcendental meditation, Jungian psychoanalysis, mythology, fairy tales, and much, much more. The work of a scholar who is also a fan, the book should appeal to any hardcore Twin Peaks viewer."
Signed copy of "Fan Phenomena: Twin Peaks"
"David Lynch and Mark Frost's television series Twin Peaks debuted in April 1990 and by June of 1991 had been cancelled. Yet the impact of this surreal, unsettling show – ostensibly about the search for homecoming queen Laura Palmer's killer – is far larger than its short run might indicate. A forerunner of the moody, disjointed, cinematic television shows that are commonplace today, Twin Peaks left a lasting impression, and nowhere is that more clear than in the devotion of its legions of loyal fans. Fan Phenomena: Twin Peaks is the first book of its kind to revisit Lynch and Frost's ground-breaking series and explore how the show's cult status continues to thrive in the digital era. In ten essays, the contributors take a deeper look at Twin Peaks' rich cast of characters, iconic locations and its profound impact on television programming, as well as the impact of new media and fan culture on the show's continued relevance. Written by fans for fans, Fan Phenomena: Twin Peaks is an intelligent yet accessible guide to the various aspects of the show and its subsequent film. Featuring commentary from both first-generation and more recent followers, these essays capture the endlessly fascinating universe of Twin Peaks, from Audrey Horne's keen sense of style to Agent Cooper's dream psychology. The first non-academic collection that speaks to the show's fan base rather than a scholarly audience, this book is more approachable than previous Twin Peaks critical studies volumes and features colour images of the series, film and fan media. It will be welcomed by anyone seduced by the strangeness and camp of Lynch's seminal series."
Signed copy of "The Return of Twin Peaks: Squaring the Circle"
A detailed analysis of Twin Peaks: The Return, focusing on the role played by spirituality and science in the cult classic TV series In 2017, twenty-five years after its initial release, a new season of Mark Frost and David Lynch's cultural touchstone Twin Peaks shook the world of television. In this volume, Franck Boulègue explores Twin Peaks: The Return through a philosophical, mythological, and spiritual lens. Divided into three sections, the book first examines the third season as expanded storytelling through the lens of Gene Youngblood's theory of synesthetic cinema, intertextuality, integrationist, and segregationist approaches in the realm of fiction, and focuses on the role of audio and visual superimpositions in The Return. It goes on to question the nature of the reality depicted in the seasons via scientific approaches, such as electromagnetism, time theory, and multiverses. The third and final section aims to transcend this vision by exploring the role of theosophy, the occult, and other spiritual sources. With a foreword by Matt Zoller Seitz, editor at large at RogerEbert.com and television critic for New York magazine, this book is essential reading for fans of the landmark show and anyone who studies it.
He has also published texts about Twin Peaks in various magazines:
–> POSITIF
–> LIGEIA
–> SUPERNATURAL STUDIES JOURNAL
Published alongside the online Twin Peaks conference "It Is In Our House Now" he initiated and co-organised with Marisa C. Hayes and Roland Kermarec, La Septième Obsession's the special issue dedicated to Twin Peaks can be found by clicking on the link below this image: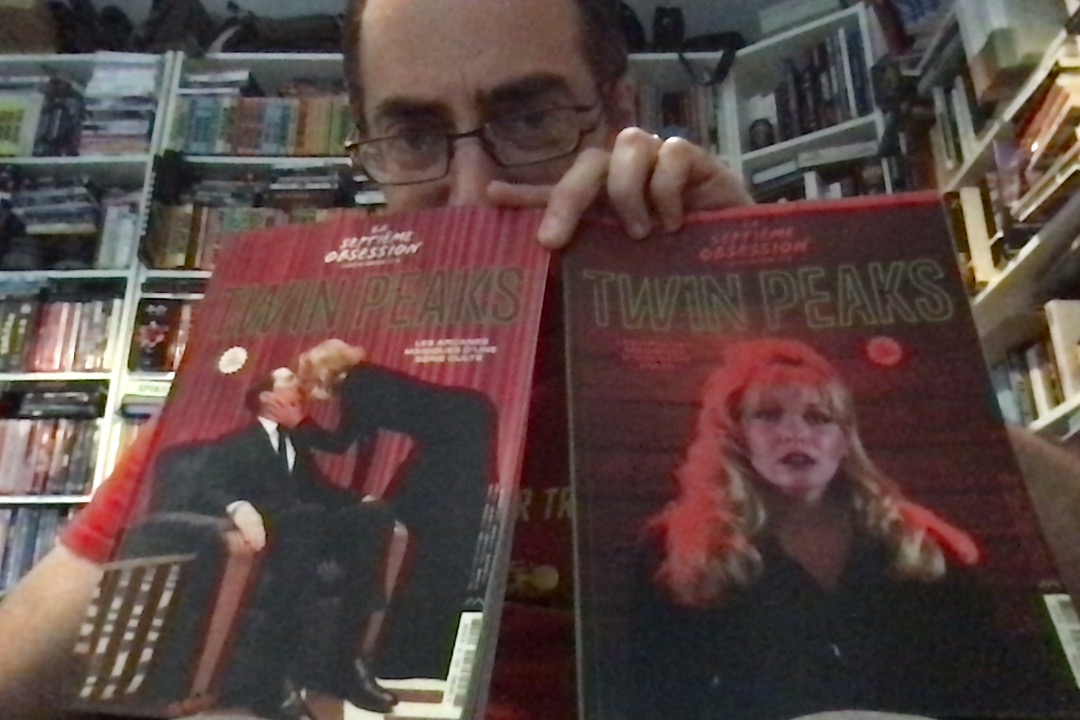 His wife Marisa C. Hayes, with whom he co-edited Fan Phenomena: Twin Peaks, has also edited and/or written several books. You can find signed copies of her books below (the prices include the shipping costs):
Signed copies of "Fan Phenomena: The Rocky Horror Picture Show"
"In Fan Phenomena: The Rocky Horror Picture Show, Marisa C. Hayes brings together a diverse group of writers who explore the film's influence on the development of the pastiche tribute film, emerging queer activism of the 1970s, glam rock style and the creative use of audience dialogue in recreating and interacting with the spoken and sung language of the film. Spotlighting a cult phenomenon and its fans, many of who count the number of times they've seen the movie in the hundreds, this contribution to the Fan Phenomena series covers never-before-explored topics related to The Rocky Horror Picture Show. For anyone who has ever done the 'Time Warp', this will be essential reading."
Signed copies of "Ju-On: The Grudge"
"Takashi Shimizu's Ju-on franchise was a principal instigator in the rise of contemporary Japanese horror and its international popularity at the turn of the millennium. Following the success of Hideo Nakata's Ringu (1998), the first cinematic release of Ju-on: The Grudge in 2002 crystallized Japanese horror's rise to prominence and outlined the new decade's thematic interest in supernatural technology and fear of contagions, while skilfully navigating domestic social concerns, such as Japan's growing elderly population and domestic violence. This Devil's Advocate explores the production roots of Ju-on The Grudge, followed by a critical reading of the film that highlights its essential themes and motifs, in addition to a section on cultural influences, before concluding with a section on Shimizu's continued involvement with the Ju-on franchise and its ongoing legacy. The book serves as an excellent primer for readers without prior knowledge of Japanese horror or the Ju-on film cycle, while providing fresh perspectives on the film that makes it equally appealing to J-horror aficionados."
Also, if you're into Screendance, Marisa and Franck have put together a collection of essays on the subject (the price includes the shipping costs):
Signed copies of "Art in Motion" / "Art en mouvement"
"Composed of papers originally presented during the International Screendance Conference at the Festival International de Vidéo Danse de Bourgogne, Art in Motion considers the choreography of moving images from a variety of angles, including somatic camera work, aesthetic and gestural analysis, and historical research that delves into cinema's earliest depictions of dance, as well as perspectives from contemporary screendance artists. The geographic diversity of the contributors, many of whom are translated in English for the first time in this volume, reflects the growing number of screendance scholars and artists around the world, providing valuable insights from France, the United Kingdom, Mexico, Brazil, Hungary, and the United States. Art in Motion adopts a broad definition of screendance that explores movement on-screen and with the camera in many forms, while citing parallels between other artistic movements and practices that raise important questions about the role of screendance in moving image and choreographic cultures today. Ce livre bilingue anglais/français regroupe l'ensemble des conférences données lors du premier colloque du Festival International de Vidéo Danse de Bourgogne. Il aborde cette discipline sous une multitude d'angles : analyses esthétiques et historiques, la notion de caméra somatique, points de vue d'artistes créateurs de vidéo-danses… Un panorama contemporain, né du travail d'un groupe de chercheurs internationaux, pour la première fois disponible en français."